"There are no short cuts to the future.
The path to our future as a nation passes through its past, the good and bad."
Sydney Friends of Myall Creek
"In memory of the Wirrayaraay people who were murdered on the slopes of this ridge in an unprovoked but premeditated act in the late afternoon of 10 June, 1838.
Erected on 10 June 2000 by a group of Aboriginal and non-Aboriginal Australians in an act of reconciliation, and in acknowledgement of the truth of our shared history."
Ngiyana winangay ganunga …
we remember them.
The Myall Creek Massacre Memorial stone
.
.
.
The massacre story …
On Sunday 10 June 1838, a group of 10 convict stockmen, lead by a squatter, rode onto Myall Creek Station (near what is now Bingara in Northern New South Wales) and brutally massacred about 28 Aboriginals, mostly older men, women and children in an unprovoked and premeditated attempt to remove them from what had become pastoral land. This event has become known as the Myall Creek Massacre and, whilst only one of many such outrages committed across Australia over a 100 year period, is notable now for the fact that it was the first time that the perpetrators of such crimes were brought to justice. Following a second trial, seven men were executed. This did not however herald an end to the massacres which continued for decades and remain as a stain on Australian history.
On the site of the Myall Creek Massacre now stands a simple but poignant granite memorial, acknowledging those who lost their lives, the perpetrators and those who courageously contributed to the pursuit and achievement of justice. Importantly now, it stands as a symbol of the desire for a more equitable Australia and as an emblem for those determined to achieve true and lasting reconciliation between our indigenous and more recent settler populations.
HISTORICAL CONTEXT
Australia, from its colonial birth, was a government-managed penal colony, subject to the policies of the government of the day and the Colonial Office who administered them. Despite direction to all colonial Governors that the Aboriginal people had a 'plain and sacred right to their own soil', the clearing of lands of the native population took place throughout the country as white settlement spread and pastoral interests flourished. Initially, New South Wales survived as a colony on the exports of whale oil and seal skins but was soon looking for an economic reason to exist. It became evident that Australian wool was superior in quality to British, Spanish and German wool and this, coupled with perceived limitless acres of land and the availability of assigned convict labour, directed the economic future of the colony.
With the recovery of the British economy after 1828, investment poured into Australia. As the price of wool increased through the 1830s and agricultural activity boomed, pressure on indigenous communities by pastoralists also increased. The development of the land now known as New England, was undertaken by many of Scottish descent who, through the Highland Clearances of 1811, were not unfamiliar with the removal of people unable to protect themselves, so that sheep could flourish.
So, while wool had a dramatically beneficial effect on Australia's economy, it came at a great cost. It led to the forced removal of Aboriginal people from their traditional lands and numerous massacres which continued well into the 20th century. This period in Australia's history is sometimes referred to as a time of the 'Frontier Wars'.
Australian Online Massacre Map
https://c21ch.newcastle.edu.au/colonialmassacres/map.php
.
THE MYALL CREEK MASSACRE STORY
In 1837, Henry Dangar established Myall Creek Station as part of his growing pastoral empire. In 1837 and 1838, the station was managed by William Hobbs, a young freeman from Somerset whose personal staff comprised three assigned convicts; Charles Kilmeister the stockman, George Anderson the hut keeper, Andrew Burrowes ,( mainly responsible for the horses) along with Aboriginal stockmen Davey and Billy. By mid 1837, it is believed that the area immediately to the North of Bingara and extending up to Myall Creek, originally peopled by the Wirrayaraay tribe, may well have been swept clear of its traditional owners. Despite this, there was constant fear of Aborigines and all men went armed when away from the station.
In late 1837 Major James Nunn, under orders of Acting Governor Snodgrass, came to the area from Sydney and with a party of about 30 troopers and volunteer stockmen conducted a murderous campaign extending over some months. In one incident, up to 300 Aborigines may have been killed in a surprise attack at Snodgrass Lagoon on Waterloo Creek on 26 January, 1838 and in another, a large party of Aborigines were reported to have been surprised at dawn in a ravine at the headquarters of Slaughterhouse Creek, with heavy loss of life. Nunn's expedition cut a blood-thirsty swathe across the North West, for which he was warmly congratulated by the press, the squatter fraternity and elements in the government including Snodgrass.
Shortly before this, a group of about 50 Aborigines moved to Myall Creek Station at the invitation of stockman Charles Kilmeister. They had been living at McIntyres, a cattle station about 30 kilometres upstream from what is now Bingara. They had been urged to move by their friend Andrew Eaton, a hut keeper at McIntyres, who feared for their safety.
"Everything points to an unusual bond developing between the little clutch of whites and the crowd of blacks who had suddenly descended on them, something approaching real friendship, not just for the enticing of young girls but for the older men and their children as well – all taking place in the short space of a fortnight or three weeks."

From Waterloo Creek by Roger Millis
On Sunday morning, 10 June 1838, ten of the Aborigines, representing most of the able-bodied males, accompanied Thomas Foster, the superintendent of Newtons, a neighbouring station, to assist him cut bark on his employer's station. Whilst there they learned that a party of armed stockmen had visited the previous day and had plans to go onto Dangar's. Foster prevailed upon the Aborigines to return immediately to Myall Creek. By half past four they were on their way. They were already too late.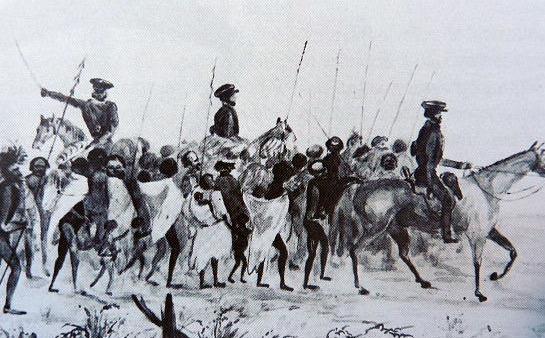 Between three thirty and a quarter to four, a group of 11 stockmen came galloping up to the huts of Myall Creek Station, brandishing their guns and swords. Unfortunately for the Aborigines, who were preparing their evening meal, William Hobbs, the station superintendent, and Andrew Burrowes, one of the assigned convicts, were absent from the station. It is likely that the marauding gang knew this, having been tipped off by Burrowes.
The horsemen herded the Wirrayaraay into the workmen's hut with only two boys aged about eight or nine able to escape. One of the stockmen, John Russell, undid a long tether rope from around a horse's neck, entered the hut with one or two others and began tying the defenceless people's hands together.
Despite his evening socialising with the Aborigines, Kilmeister, one of the station convicts, joined with their tormentors. George Anderson, another of the assigned convicts, refused to join and was later prevailed upon to give evidence against the others. The stockmen were deaf to the cries of their victims as they were lead over a rise to the West of the hut. There is no eyewitness account of the killings but about 800 metres from the huts, the defenceless people were hacked and slashed to death. Only one of the whole clan was spared. John Blake appears to have selected an Aboriginal woman for himself and so spared her. All of the other Aboriginal people were beheaded and their headless bodies were left where they fell.
Myall Creek massacre 1838, by Harold Joseph Thomas (Bundoo) derwombat.net
Late that evening, the ten Aboriginal men who had been away at Newton's collecting bark arrived at Anderson's hut and learned the awful story of what had befallen their kin. With Anderson's urging, they were persuaded to get as far away from the station as possible. Soon after, the ten men, two women and three boys headed off into the night towards McIntyres. A third boy had been hidden by Anderson in order to save him.
The following day, the murderers returned to Anderson's hut and spent the night there and, on Tuesday morning, set about burning the bodies of their victims. Kilmeister was deputized by Fleming to mind the fire during the day whilst the remaining murderers set out to find the Aborigines they had missed. During the next three days, the stockmen caught up with the work party that had then reached McIntyres and most were murdered. Further shocking atrocities were committed by this gang in the area with much loss of life before the party dispersed on Friday 15 June 1838.
THE PURSUIT OF JUSTICE
On the same afternoon, Dangar's superintendent, William Hobbs returned to Myall Creek, having already gained some information about what had occurred in his absence. He questioned Anderson and accepted Kilmeister's denial of complicity. Hobbs was led to the murder site by Davey where the bodies remained and was grief-stricken and overcome with nausea. The next morning Hobbs and Thomas Foster (superintendent of the neighbouring Newton's Station) inspected the site again. The men agreed that the atrocity should be reported and Hobbs undertook to inform his employer Dangar. He did though let it be known that he was going to report it to the authorities as well.
By Sunday 24 June, Frederick Foot, a local landholder, set off to Muswellbrook to report the matter to the nearest police magistrate, Edward Denny Day. Missing Day, he travelled onto Sydney where, on 4 July, he wrote an account of the incident for the attention of Governor Gipps. Governor Gipps, only in the colony a few months and anxious to implement British Government instructions to protect Aborigines, gave the report precedence over other matters, including an inquiry into Major Nunn's activities. Day, supported by a party of mounted police, was instructed to conduct a strict inquiry and apprehend all those considered responsible.
Day probably left Muswellbrook on 19 July and his investigative expedition lasted 47 days. That time was occupied gathering witnesses, seeking suspects named by Foot and visiting the massacre site where fragments of bones and the remains of the fire were found. It is clear that, in the intervening six weeks since the massacre, the murderers and perhaps some accomplices, had returned to relight the fire in order to destroy evidence.
On Saturday 28 July Day ordered Kilmeister be taken into custody on suspicion of involvement and set about hearing Hobbs' account. Then it was Anderson's turn. He implicated Kilmeister for the first time. By Wednesday 8 August, Day and the mounted police had ten suspects. George Anderson was questioned further and was now prepared to identify eight of the men as belonging to the murderous party. He identified John Fleming, the only perpetrator not of convict origin, and John Russell as the ring leaders. Charles Telluce, James Oates, William Hawkins, Edward Foley, George Palliser, Jem Lamb and the mixed race ex-seamen, 'Black' Johnstone, were implicated. Anderson was uncertain about two others, John Blake and James Parry.
The prisoners walked for about 300 kilometres under guard and in chains to Muswellbrook, in the Hunter Valley, arriving on 10 September. Within a week, all but one were under lock and key in Sydney.
Melbourne's Argus newspaper, Saturday 24 March 1956
In the Hunter, Day's investigations and the arrival of the prisoners attracted wide interest. Reflecting the climate of the times, there was much support for the prisoners and a fund was set up to finance their defence. A clandestine organisation of Hunter Valley landlords, many of whom also had holdings in the North Western Districts, was the driving force behind this campaign. In early October, Henry Dangar visited Myall Creek and dismissed William Hobbs who was given a long list of jobs to complete before he would pay him. It is believed that Dangar was seeking to make it difficult for Hobbs to travel to Sydney in order to assist the police.This didn't however prevent Hobbs from responding to a subpoena to appear as a witness in the coming trial. Meanwhile in Sydney, controversy raged in the press and in public meetings. An attempt to form an Aboriginal Protection Society was short-lived and by early November, public opinion was running in favour of the accused.
The trial of the eleven accused proceeded on 15 November, 1838 in Sydney's Supreme Court and dealt with the killing of one male Aborigine named Daddy and two others unnamed. Chief Justice James Dowling presided. Despite the weight of physical evidence, the lack of an eye witness or bodies recovered and the community mood, the prosecutors task was always going to be extremely difficult. Needless to say, the accused pleaded not guilty. To cheering in the court, after the jury deliberated for 15 minutes, all of the accused were pronounced not guilty.
ABC Australians on trial
However, Attorney General Plunkett immediately asked that the prisoners be remanded, as he wished to prepare another indictment. To hissing, Dowling granted the application. A second trial was set down for Monday, 26 November but this time only seven of the original accused; Kilmeister, Oates, Foley, Parry, Russell, Hawkins and Johnstone were tried. The charges now centred on the killing of an Aboriginal child, 'Charley' and another child name unknown. In presenting its defence, the accused's lawyers went straight to character witnesses for the defendants. Dangar, as in the first trial, supported Kilmeister and attacked Anderson. Plunkett sought to undermine Dangar's credibility by drawing attention to his suspension from public office. He was also questioned about Hobbs' dismissal, his wrongful arrest and about Dangar's contribution to the prisoner's defence fund.
All seven men were finally found guilty of "the murder of an Aboriginal child whose name was unknown". The judge complimented both Hobbs and Anderson on the part they had played in reporting the murders.
The seven convicted men were executed by hanging at 9am on 18 December, 1838.
Governor Gipps fought a losing battle with the squatters and his commitment to justice and protection for Aboriginals waned. Major Nunn's activities on the Gwydir were never investigated. Henry Dangar's pastoral holdings grew. William Hobbs was unemployed for several years before becoming a constable at Wollombi in 1846. The murderous attacks on Aborigines, including the use of arsenic and other poisoning of water sources by European settlers continued on the frontiers well into the 20th century.
These events should be considered against a backdrop of British administration. Until 1843, with the establishment of a partly elected NSW Legislative Council, the British Government determined how life should be conducted in Sydney Cove and its expanding districts. Whilst sentiment from London had mostly encouraged civil treatment of Aboriginals and that they had 'a plain and sacred right to their own soil', the election of a liberal government (after 50 years of Conservative rule) heralded the arrival of a more sympathetic administration. This led to the appointment of a new Governor of NSW, Governor Gipps (1837-1846) and a new Attorney General, John Plunkett (1836-1856). Plunkett not only introduced equality before the law for Aboriginal people in 1836 but also pursued a career-long campaign for the acceptance of evidence by Aboriginal people in criminal trials.
The winds of change had however not blown through all the ranks of government. Just prior to the arrival of Gipps, Acting Governor, Lt Colonel Kenneth Snodgrass had commissioned Major Nunn to organise a force to "suppress outrages in the Namoi Gwydir region". It was in this setting that the actions of Gipps, Plunkett and Denny Day were courageous in endeavouring to bring justice for Aboriginal people in NSW following the Myall Creek Massacre.
MORE RECENT DEVELOPMENTS
In 1965, Len Payne, a Bingara resident, proposed the erection of a memorial in the memory of those who died at Myall Creek and elsewhere. There was not broad community support though. An article in the Bingara Advocate titled "Memorial to be erected at Myall Creek" drew a letter the following week condemning Len's proposal and describing it as "ill conceived, unconsidered, mischievous and an insult to the Bingara people ". Len's letter in reply was refused publication. The local Apex Club decided against supporting the memorial and the idea was banished.
Throughout the 1980s, Len Payne, along with others, laid a wreath at the site every 10th of June. Len never lost his hope that one day a memorial would be built and up until his death in 1993 he continued to visit the site.
In October 1998, a conference on reconciliation convened by the Uniting Church was held at Myall Creek on the invitation of Sue Blacklock, a descendant of those who survived the massacre. A number of concerned local people joined the conference and, by the end of the meeting, a decision was made to erect a permanent memorial. The Myall Creek Memorial Committee was later formed to carry out this resolution.
Throughout 1999, much progress was made. The descendants of those massacred at Myall Creek were unanimous in their support for a project involving both indigenous and non-indigenous people and the site was selected. It was agreed that the memorial should also be for "the purpose of reconciling Aboriginal and non-Aboriginal people".
Grant funds were sought and obtained and on Sunday 10 June 2000, 162 years to the day since the massacre, and in a moving ceremony, the memorial was dedicated. Descendants of both those murdered and the perpetrators attended the dedication ceremony and a great step forward was witnessed as members of these two groups embraced beside the memorial.
"Very soon we will all take a journey together. We will walk up the hill and along the serpentine path together, and as we walk down towards the rock, we will read about the massacre that happened 162 years ago today. And as you walk, I ask only this of you. Think about those who died, speak to them, say a prayer for them, remember them. And as you return back along the path, take a stranger by the arm and walk back in peace, knowing that today you have taken a very big step towards justice, truth and reconciliation."

Paulette Hayes (who spoke on this day on behalf of the Myall Creek Memorial Committee)
The construction of the memorial came about as a result of many people's efforts but principally because enough people cared that this part of our history should be given prominence in the telling of Australia's story. It happened too because it was supported by Bingara and Gwydir Shires and each June long weekend a growing number of people come from across the State and beyond to reflect and remember and take the 'reconciliation walk' from the Myall Creek Hall to the memorial .
THE FUTURE
Throughout 2013, plans were developed for the construction and operation of an 'Education and Reconciliation Centre' at Myall Creek. This ambitious project is presently being discussed with those who might bring their influence and expertise to bear and make this a reality. Such a centre would be a monument to not only the victims of Myall Creek but to those indigenous brethren killed throughout our country during its formative years. It is expected that school groups would be a major source of visitors and this development has the potential to be a significant step forward towards true reconciliation.